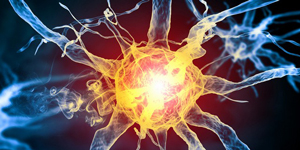 De 'Talk to Transformer' website van Adam King, is een neuraal netwerk (wikipedia) die uw Engelstalige tekst vervolledigt die je ingeeft.
Ingave:
Islam is the religion op peace, to support that a peace can be achieved by those who seek to achieve it and who reject it will only bring harm to Allah and to those who seek it and reject it.
The only way to achieve peace is by destroying Islam – which is the religion of the oppressors. The only source of peace is Allah. The only source of peace is the peace of the Muslims.
In fact Islam has a single ultimate goal, peace: Allah wants peace. The real problem is that non-Muslims hate Islam and seek the downfall of it. The real threat to Islam in the contemporary world is its very existence: it spreads over an immense area and demands that the non-Muslims obey its strictures. It is a very serious threat to the peace of a free society. The real answer is to spread Islam – just like with all religions, whether they have a religion or not, whether they are good or bad.